Easy usability
If you are looking for a phone that provides basic functions at an affordable price, the Gigaset A150 is the reliable choice. It offers great value for the money, including all the essentials in a compact, user-friendly package. Its keys with sensitive pressure points and illuminated display make dialling and navigating the menu quick and easy. Plug & play setup allows you to begin enjoying the conveniences of the Gigaset A150 as soon as you take it home. Your conversations can last for as long as you like, with the long talk time of up to 18 hours. And with the long standby time of up to 200 hours, little recharging is necessary with the Gigaset A150.
Convenient data storage
The Gigaset A150 stores numbers to make everyday calling more convenient. The call list with up to 25 entries allows you to see the past 25 missed and received calls. A separate call list stores the past 10 numbers you have entered for quick redialling. You can store the numbers of up to 50 contacts in the phonebook, keeping your friends and family reachable in seconds on the Gigaset A150.
Practical information
With the Gigaset A150, you have immediate access to the information you need throughout the day and as you receive calls. The date and call duration are indicated on the phone, and the alarm function allows you to program a reliable reminder whenever you need it. You will also always know who is trying to reach you when the phone rings, as the Gigaset A150 comes with a caller ID function.
Practical answering machine
The Gigaset A150A comes with a built-in answering machine that records up to 25 minutes of messages at one time. The answering machine can be operated either via the handset or remote control. You can choose between an automated or personalized greeting option.
ECO DECT: Pure energy savings and radiation-free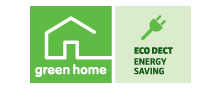 The energy-saving power supply of the Gigaset A150 consumes less electricity, so it's kinder to the environment, and kinder to your wallet. Like all Gigaset cordless phones, it variably reduces the transmitting power from the handset to base station depending on their distance apart. Furthermore, radiation-free ECO Mode Plus turns off the transmitting power when the phone is in standby.

The Gigaset A150: the cordless phone with practical features and a long talk time that covers all your basic calling needs.