The efficient desktop phone with mobile connectivity and professional features.
The Gigaset DL500A is the essential desktop phone for smart home offices and small businesses. From its comfortably modern design to its large 3.5'' TFT colour display, this corded phone gives any desktop a splash of executive chic and with the business-like features to match, it's a purely professional solution. Managing contacts is easy with the large integrated address book for up to 500 vCard entries. And what's more, you can access PC based address books1, locate the contacts you need with auto look-up2, and dial directly from your PC thanks to the CTI interface. The Gigaset DL500A with its Link2Mobile™ functionality is fully equipped with Bluetooth® technology for connecting to mobile and talking hands-free. With its range of energy-saving features this telephone even considers the environment. And thanks to an integrated answering machine with a generous 55 minutes recording time, the Gigaset DL500A always gets the message.
With its executive features, modern design and large colour display, the Gigaset DL500A is the proficient office manager, capable of meeting your professional demands. Talk about flexibility.
The Gigaset DL500A is equipped with Link2Mobile making it possible for you to experience the benefits mobile calling from the comfort of your desktop phone. Thanks to this Bluetooth
®
mobile connection, incoming calls are also signalled and transferred so you can receive them without hassle. For moments when you need to do two things at once, the Gigaset DL500A allows you to speak hands-free either wired or wirelessly via Bluetooth
®
headset. The Gigaset DL500A also supports up to 6 handsets, giving you the flexibility to expand your system to meet your needs.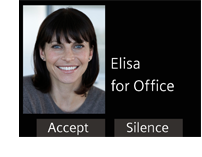 Professional contact management.
The Gigaset DL500A has the right skills to help small businesses or busy households when it comes to managing important contacts. As well as providing a large address book for up to 500 vCard entries, each with up to 3 numbers and email; this valuable desktop phone links to your PC based address books. Gigaset QuickSync Software takes care of data synchronisation. Find the details you need quickly and easily with auto look-up
2
, and thanks to the CTI interface, you can even dial numbers directly from your PC. When you need to locate supplier details, the Gigaset DL500A saves valuable time and effort by providing access to an online net directory and Yellow Pages search function.

Answering your calls.
Missed messages are a thing of the past thanks to the Gigaset DL500A's integrated answering machine. With up to 55 minutes recording time your associates will never be cut short, even when leaving detailed messages. This dependable desktop phone does all it can to let you know when a new message is waiting, from notification on the large TFT colour display to sending SMS
2
. And for added professional convenience, the answering machine of the Gigaset DL500A can even record your calls.
Environmental efficiency.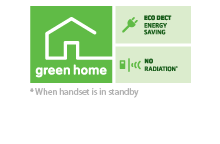 The Gigaset DL500A has an energy-saving power supply, meaning it consumes less electricity
3
saving you money and helping the environment. For further energy savings, a time controlled night mode switches off the display when not in use. When no cordless handsets are registered to the base station the DECT power is switched off completely. When handsets are registered, the transmitting power to the base station is variably reduced depending on their distance apart. You can also reduce the transmitting power by 80%
4
by selecting the ECO Mode. Furthermore, radiation-free
5
ECO Mode Plus turns off the transmitting power when the handset is in standby. Rely on the Gigaset DL500A for professional energy-efficiency.
With its flexible hands-free, professional contact management and Bluetooth
®
connection to mobile, the Gigaset DL500A is the expert desktop phone capable of meeting the daily demands of a small business.