Support voor Gigaset smart camera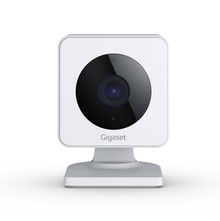 Zoeken
Antwoorden op veelgestelde vragen
Heeft u vragen met betrekking tot de Gigaset producten? Hier zijn de antwoorden allemaal te vinden.
Top 10 FAQs
Reset to factory defaults

If the smart camera is already connected to an account, first delete it from your account via the elements app. Please ensure you have saved all videos required as these will also be deleted.

1. To reset the camera, place a pin or similar object in the reset hole on the side of the camera and hold for 5 seconds.
2. After 5 seconds the camera LED will flash red for a few seconds and then go off. The camera will restart itself and a solid blue light will be shown. The camera is now reset to factory settings.

Why I can't access my smart camera over IP?

The smart camera is a security camera and thus prevents access to unsecure accesses such as web browsers via IP.

Does the Gigaset smart camera support 2,4 GHz and 5 GHz WLAN network?

The camera can only work with 2.4 GHz network. Please set the camera to 2.4 GHz network in the router settings.

Can I place the smart camera somewhere else than at home?

Yes, the camera needs only to be connected to the elements account via internet.

I only bought the smart camera. Why do I need an account for Gigaset System?

The Gigaset camera app does not support the new smart camera. For this reason you need an account and the app to use the smart camera. 

Why does the camera only take 5 minutes of movies when I'm allowed to record endlessly?

The videos will be cut in 5 minutes sequences because otherwise you can hardly process them and they will be too big to download.

Which Bluetooth standard has to be supported by the smartphone?

The smart camera supports bluetooth 4.1. To establish the first connection via Bluetooth with using the elements app the smartphone has also to support Bluetooth 4.1. The bluetooth connection is only neccesary for the first connection of the smart camera.

Why is this a security camera? What does the "buffer" mean?

The biggest difference is in the recording technique. The camera records continuously (internally) and in case of a break-in, it cuts the video in such a way that it starts 20 seconds before the break-in event. So you can see who really came through the door.
alle FAQ's naar thema
E

Elements App

I forgot my password, what can I do?

If you can´t remember your password, you can simply reset it. You can use the function FORGOT PASSWORD on the login screen:

In the given field you need to enter the email address that you used to register your Gigaset elements system. Then click on CONTINUE.

You will get an email containing a link. Follow the instructions to reset your password. Please make sure that your new password is strong enough.

 

F

Features

Can I place the smart camera somewhere else than at home?

Yes, the camera needs only to be connected to the elements account via internet.

How do I know which package I have booked?

If you click on "More functions" in the app, you will see which package is active.

I only bought the smart camera. Why do I need an account for Gigaset System?

The Gigaset camera app does not support the new smart camera. For this reason you need an account and the app to use the smart camera. 

Night vision does not work properly - what can I do?

The camara should not point to a wall, otherwise the infrared LED illuminates the wall and not the room. When the indoor camera is pointing outside, night vision cannot work. You will need to issue them and provide a light source outside (or buy an outdoor camera).

What does peer to peer mean?

Peer to peer means that the smart camera can connect directly to your smartphone when you are at home. This in turn means a faster livestream and little latency (delay). You still need Wi-Fi for recording because it's captured through the cloud.

What is the difference between the motion detection of the old camera and the motion detection of the new smart camera?

The old camera had a frame that triggered the recording. The new camera captures every movement in the frame. So it is not necessary to step through the frame - if someone appears in this frame the recording is triggered. The zones must neither touch nor overlay of each other.
With high sensitivity, even a shadow triggers the recording. With lower sensitivity only an animal or human triggers the recording.

Why I can't access my smart camera over IP?

The smart camera is a security camera and thus prevents access to unsecure accesses such as web browsers via IP.

Why is this a security camera? What does the "buffer" mean?

The biggest difference is in the recording technique. The camera records continuously (internally) and in case of a break-in, it cuts the video in such a way that it starts 20 seconds before the break-in event. So you can see who really came through the door.

With the old camera, I could also hear what is happening in the next room. Why is not that the case with the new one?

We focused on the new camera to record exactly what is currently visible. That's why the microphone is set exactly like that.

P

Product information

How secure is my data at Gigaset system?

Protection of personal data is of great importance to us. We conduct our activities in compliance with applicable regulations on data privacy protection and data security. We only collect personal data (f.e. name, address, phone number and email address) if they are needed for a contractual relationship or if you make them available by your own choice (e.g. during the registration process).

Your data is only passed on to third parties, if it is necessary for the purpose of contract execution or billing.

For the purpose of using your Gigaset system, datastreams that flow from the sensors via the base station to the Gigaset system server environment are recorded anonymously so Gigaset Communications GmbH is not able to link certain people to their system use.

Please also note our detailed rules concerning data protection as well as our terms of use. 

How will I be informed about incidents in my home?

You can receive push notifications on your smartphone or have emails sent to your address. You can also take a look at your smartphone app or log in to your personal section anytime: https://app.gigaset-elements.com

Is it possible to use Gigaset sensors in humid areas?

window, door, motion and base are not protected against spray water, so we can´t recommend to use them in moist areas. Persistent humidity might also damage the sensors. 

Where are the servers of the Gigaset cloud located?

To provide the highest security for your Gigaset system and the referring data, the cloud servers are located at a provider in Germany. This host guarantees data security and data privacy under the German data protection law. 

R

Recording

I have problems with my smart camera? But I have a 100 MBit Internet line!

The Gigaset smart camera uses the upload of the Internet connection. You needed up to 0.5 MBit for the livestream and about 1 MBit for the recording. If there are other devices at the same time uploading something, the time for the livestream can disturb.

Why does the camera only take 5 minutes of movies when I'm allowed to record endlessly?

The videos will be cut in 5 minutes sequences because otherwise you can hardly process them and they will be too big to download.

Reset procedures

Reset to factory defaults

If the smart camera is already connected to an account, first delete it from your account via the elements app. Please ensure you have saved all videos required as these will also be deleted.

1. To reset the camera, place a pin or similar object in the reset hole on the side of the camera and hold for 5 seconds.
2. After 5 seconds the camera LED will flash red for a few seconds and then go off. The camera will restart itself and a solid blue light will be shown. The camera is now reset to factory settings.

S

Set up

Can I place the smart camera somewhere else than at home?

Yes, the camera needs only to be connected to the elements account via internet.

Does the Gigaset smart camera support 2,4 GHz and 5 GHz WLAN network?

The camera can only work with 2.4 GHz network. Please set the camera to 2.4 GHz network in the router settings.

I have a hidden Wi-Fi and cannot connect the smart camera?

Please change your network to visible and try to connect the camera again.

I have a mesh network - why I cannot connect the camera?

The camera needs a fixed assigned network. Please specify in your router which should be intended for the camera.

What do I have to set to connect the camera in my office?

In business environments you need these open ports 80, 443, 8000 and 8080.

Which Bluetooth standard has to be supported by the smartphone?

The smart camera supports bluetooth 4.1. To establish the first connection via Bluetooth with using the elements app the smartphone has also to support Bluetooth 4.1. The bluetooth connection is only neccesary for the first connection of the smart camera.

Which WLAN standard and WLAN security protocols are supports?

WLAN standard: 802.11 b/g/n 2,4GHz
Security protocols: WPA/WPA2 (TKIP or AES)

Why I can't access my smart camera over IP?

The smart camera is a security camera and thus prevents access to unsecure accesses such as web browsers via IP.

Settings / Using / Handling

Does the Gigaset smart camera support 2,4 GHz and 5 GHz WLAN network?

The camera can only work with 2.4 GHz network. Please set the camera to 2.4 GHz network in the router settings.

How do I know which package I have booked?

If you click on "More functions" in the app, you will see which package is active.

I have a hidden Wi-Fi and cannot connect the smart camera?

Please change your network to visible and try to connect the camera again.

I have a mesh network - why I cannot connect the camera?

The camera needs a fixed assigned network. Please specify in your router which should be intended for the camera.

What do I have to set to connect the camera in my office?

In business environments you need these open ports 80, 443, 8000 and 8080.

What is the difference between the motion detection of the old camera and the motion detection of the new smart camera?

The old camera had a frame that triggered the recording. The new camera captures every movement in the frame. So it is not necessary to step through the frame - if someone appears in this frame the recording is triggered. The zones must neither touch nor overlay of each other.
With high sensitivity, even a shadow triggers the recording. With lower sensitivity only an animal or human triggers the recording.

T

Troubleshooting

I have a pink picture - what can I do?

Your camera got stuck when switching from night mode to daytime mode. Please reset the camera once and connect it again. To do this, use a needle and press in the hole on the side for 5 seconds. Please delete the camera from the app and reinstall it completely. If after the refurbishment the image is still pink, please contact the service.

I have problems with my smart camera? But I have a 100 MBit Internet line!

The Gigaset smart camera uses the upload of the Internet connection. You needed up to 0.5 MBit for the livestream and about 1 MBit for the recording. If there are other devices at the same time uploading something, the time for the livestream can disturb.

I use the smart camera to film out of the window. It triggers false alarms very often! What can I do?

Since the Gigaset smart camera is an indoor camera, it should not point outdoors. Every blade of grass / sunlight or wind movement can trigger an alarm and it does not work reliably.
Mirroring in the window can also trigger false alarms if the light is switched on or people are reflected in the window.

My camera image sometimes wobbles and I do not know why?

If you place the camera on the microwave or other electronic equipment, it may cause interference. Please position the camera differently. This can also happen if you turn on various fluorescent lamps in the vicinity.

My router is always looking for the best way to balance the traffic. The camera sometimes hangs up - why?

The camera goes into a kind of sleep mode while it is not recording. In this mode, it is not actively connected to the WiFi. If the router then changes the connection while the camera is sleeping, it will no longer have WLAN when it wakes up. Please make an exception for the camera and always leave at the same port.

Night vision does not work properly - what can I do?

The camara should not point to a wall, otherwise the infrared LED illuminates the wall and not the room. When the indoor camera is pointing outside, night vision cannot work. You will need to issue them and provide a light source outside (or buy an outdoor camera).
Heeft u gevonden waar u naar zoek was?
Neem contact op met de Customer service voor persoonlijke assistentie a.u.b.