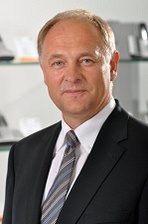 Klaus Weßing
Klaus Weßing, is CEO of Gigaset AG since December 16, 2015.
Mr. Weßing is looking back on a long-lasting track record with more than 30 years management experience in the communications industry. He held various operational and strategic positions while always focussing on new products and product solutions, customer-oriented processes and redesigning corporate structures. For the last years Mr. Weßing acted as COO of Gigaset, shaping Gigaset products as technically excellent ones with sustainable product quality and creating operationally lean and flexible value added processes with integrated international networking.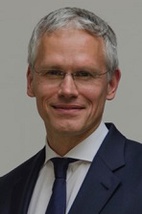 Stephan Mathys
Stephan Mathys, born in 1967, is CFO of Gigaset AG since 01.02.2018.
Since 1994, Mr. Mathys held leading management positions in the finance sector. After studying European Business Studies at the University of Applied Sciences in Osnabrück with a degree in business administration, Stephan Mathys worked for four years in the management consultancy business before spending around twelve years working in the area of corporate finance at various banking institutes. In January 2011 he moved to the private sector. In his last position at Kettler GmbH he acted as CFO sind July 2011.