The straightforward phone with useful functions, enhanced sound and an extra handset
Experience simple home telephony with the Gigaset E310 Duo. This phone and its extra handset feature a 1.8" high-contrast, black and white display with large font for optimal readability as well as large, illuminated keys for easy dialling. The Gigaset E310 Duo's two sound profiles, one with a high frequency spectrum the other a low frequency spectrum, have five volume levels each. The sound profiles allow you to set the volume and pitch levels that suit you best. An additional volume boost function lets hearing impaired users temporarily increase the volume while calling. With the Gigaset E310 Duo's extra handset, you are never far from a phone. And Eco Mode Plus with no radiation1 allows you to save energy with the Gigaset E310 Duo.Experience user-friendly telephony, brilliant sound and the practicality of an extra handset with the Gigaset E310 Duo.An outstanding listening experience
Even in handsfree mode the Gigaset E310 Duo delivers brilliant HSP™ sound quality. It's two high and low frequency sound profiles each come with five volume levels. This allows you to set the pitch as well as the level of sound that suits you. The additional in-call volume boost, designed specifically for the hearing impaired, allows you to momentarily increase the volume during a conversation. Additionally, the Gigaset E310 Duo is hearing aid compatible.
Functions that matter
A single charge on the Gigaset E310 Duo gives up to 20 hours of talk time and a standby time of up to 220 hours, so you don't have to worry about running your phone's battery life. With a selection of ringtone melodies and a speed dial function, you can personalise the phone to fit your needs. The phonebook that holds 120 entries and the caller ID
2
function with names and numbers, lets you quickly select your contacts as well as identify who is calling you on the Gigaset E310 Duo.
Calling made effortless
The large, illuminated keys and the 1.8" black and white screen with large font size means placing calls and navigating the menu on the Gigaset E310 Duo is quick and easy. The convenience of an extra handset means that you can establish separate calling stations within your household. The textured handset surface ensures you'll always have a firm grip on the Gigaset E310 Duo.
ECO DECT: Pure energy savings and radiation-free1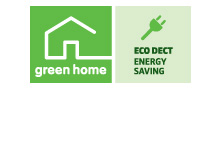 The energy-saving power supply of the Gigaset E310 Duo consumes less electricity
3
, so it's kinder to the environment, and kinder to your wallet. Like all Gigaset cordless phones, it variably reduces the transmitting power from the handset to base station depending on their distance apart. You can also reduce the transmitting power of the Gigaset E310 Duo base station by 80%
4
simply by selecting the ECO Mode. Furthermore, radiation-free
5
ECO Mode Plus turns off the transmitting power when the phone is in standby.
Ease-of-use, brilliant sound quality and the practicality of an extra handset: the Gigaset E310 Duo embodies straightforward telephony.