Notes on operating a Gigaset IP base or GO-box via LAN cable on a router or modem.
If you own a Gigaset IP Base / Gigaset GO-Box and it is connected to your router/modem via LAN cable, please check the following steps: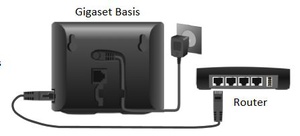 Use the LAN cable from the Gigaset packaging.
Connect the Gigaset base via LAN cable to the router (e.g. to LAN1). Please note: The blue LED of the Gigaset base must flash!
Please make sure that your internet connection is working. A working internet connection is required for telephony.
Please make sure that your telephony data (internet telephone numbers, provider-profile, …) is only entered in Gigaset base. If telephony data is also entered in the router, please delete it! Please note: Often an error message is displayed when telephony data is entered wrong (e.g. "Provider registration is not possible" or "Server not available".
Furthermore each handset must be associated with the correct send connection and receive connection. Please check this by holding down the green button and selecting the first IP connection. Afterwards you have to press the green button briefly and dial a telephone number. In case of an error message such as "Connection is not established", please contact your provider.
If either you can only hear your call partner or your call partner can only hear you, change the STUN-settings in the web configurator of the base (activate if disabled and vice versa). If a call is possible afterwards, configure the send connection for all registered handsets.
If no call is possible after that, you can check your VoIP-line by echo test via Gigaset.net. The echo-service is available at the following telephone number: 12345#9 . After an announcement the echo-service will send back(directly as an echo) the voice data received from you. Please contact your provider if the echo test is okay.