Support for Gigaset universal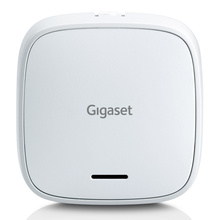 Search
Answers to frequently asked questions
You have questions regarding your Gigaset product? Here you will find answers.
How do I install my universal?

The universal is connected to the elements app like any other sensor. By pressing the button on base and universal the sensor is connected and when the LED stops flashing the universal is connected.

Can I change the battery if necessary? Even without help?

Yes - please use a GP battery and no rechargeable batteries.

Where are the servers of the Gigaset cloud located?

To provide the highest security for your Gigaset system and the referring data, the cloud servers are located at a provider in Germany. This host guarantees data security and data privacy under the German data protection law. 

Why does the universal not indicate that my sliding door is tilted?

We are working on a software udpate but today the universal only indicates that the sliding window is open.

What do I have to observe in sliding doors and sliding windows?

For sliding windows and sliding doors the universal must be installed with a magnet.

My universal has triggered an internal alarm? Why?

You have triggered the internal buzzer. Either the door was broken or the door or window was hit by force. Simply press the pairing button to reset the alarm

How long is the lifetime of the universal battery?

The universal battery holds approx. 1.5 years.

What is the range of the universal?

The universal is DECT ULE based and has a range of 50m

After I have exchanged my window for a universal, I sometimes miss events in the event list. What can I do ?

Door and window look similar but work differently. If events are missing please install the magnet at the top corner next to the sensor. A change in the magnetic field can cause the sensor to miss an event.

My universal indicates that its battery is empty. How long do I have to wait until I must change it?

The battery indicator shows 3 weeks before the end, so you have enough time to change the battery.
B

Battery

Can I change the battery if necessary? Even without help?

Yes - please use a GP battery and no rechargeable batteries.

Can I use the universal with rechargeable batteries?

Unfortunately, no! Please use only GP batteries, otherwise the voltage is not correct.

How long is the lifetime of the universal battery?

The universal battery holds approx. 1.5 years.

My universal indicates that its battery is empty. How long do I have to wait until I must change it?

The battery indicator shows 3 weeks before the end, so you have enough time to change the battery.

E

Elements App

I forgot my password, what can I do?

If you can´t remember your password, you can simply reset it. You can use the function FORGOT PASSWORD on the login screen:

In the given field you need to enter the email address that you used to register your Gigaset elements system. Then click on CONTINUE.

You will get an email containing a link. Follow the instructions to reset your password. Please make sure that your new password is strong enough.

 

Video zur Anleitung und Hilfe bei einem Update

Um Updates für Ihr Gigaset elements System problemlos durchführen zu können, finden Sie hier ein Video zu Anleitung und Hilfe. 

G

Generally

After I have exchanged my window for a universal, I sometimes miss events in the event list. What can I do ?

Door and window look similar but work differently. If events are missing please install the magnet at the top corner next to the sensor. A change in the magnetic field can cause the sensor to miss an event.

Can the universal water be exposed?

No. The universal as well as all elements sensors may only be used internally.

How do I install my universal?

The universal is connected to the elements app like any other sensor. By pressing the button on base and universal the sensor is connected and when the LED stops flashing the universal is connected.

My universal has triggered an internal alarm? Why?

You have triggered the internal buzzer. Either the door was broken or the door or window was hit by force. Simply press the pairing button to reset the alarm

My universal indicates that its battery is empty. How long do I have to wait until I must change it?

The battery indicator shows 3 weeks before the end, so you have enough time to change the battery.

What are the differences between the universal and window/door sensor?

The universal is completely new developed:
The universal can not only recognize normal doors and windows, but also roof windows, sliding doors, refrigeration cabinets, cat flap, letterboxes etc.

What do I have to observe in sliding doors and sliding windows?

For sliding windows and sliding doors the universal must be installed with a magnet.

What is the range of the universal?

The universal is DECT ULE based and has a range of 50m

Why does the universal not indicate that my sliding door is tilted?

We are working on a software udpate but today the universal only indicates that the sliding window is open.

P

Product information

How secure is my data at Gigaset system?

Protection of personal data is of great importance to us. We conduct our activities in compliance with applicable regulations on data privacy protection and data security. We only collect personal data (f.e. name, address, phone number and email address) if they are needed for a contractual relationship or if you make them available by your own choice (e.g. during the registration process).

Your data is only passed on to third parties, if it is necessary for the purpose of contract execution or billing.

For the purpose of using your Gigaset system, datastreams that flow from the sensors via the base station to the Gigaset system server environment are recorded anonymously so Gigaset Communications GmbH is not able to link certain people to their system use.

Please also note our detailed rules concerning data protection as well as our terms of use. 

How strong is the radio transmission exposure?

The wireless sensors are usually in an almost-off mode and only activate the radio channel for a short period of time, for example if data has to be transferred.

Because of the DECT-ULE standard an insignificant amount of emission occurs within these transfer times, which furthermore lies far below the legal limit of 2 W/kg. 

How will I be informed about incidents in my home?

You can receive push notifications on your smartphone or have emails sent to your address. You can also take a look at your smartphone app or log in to your personal section anytime: https://app.gigaset-elements.com

Is it possible to use Gigaset sensors in humid areas?

window, door, motion and base are not protected against spray water, so we can´t recommend to use them in moist areas. Persistent humidity might also damage the sensors. 

Where are the servers of the Gigaset cloud located?

To provide the highest security for your Gigaset system and the referring data, the cloud servers are located at a provider in Germany. This host guarantees data security and data privacy under the German data protection law. 
Didn't find what you were looking for?
Please contact our Customer Services for personal assistance.