"Voice over IP" – everything you need to know about converting to VoIP, installing VoIP and using VoIP
Deutsche Telekom is the only body to have already converted almost all connections to VoIP*. And by 2022 at the latest, other providers will have done away with obsolete ISDN connections and converted to Internet telephony throughout Germany as part of the all-IP conversion process.
You can already benefit from this new technology: Phone calls and other services such as mobile communications, TV or fax are received through IP telephony via a single network. This means you can dispense with conventional analogue ISDN telephone connections, which will save you money. We have come up with a summary of all you need to know to make the replacement of your telephone connection as smooth and convenient as possible.
* 85% of business clients, 90% of private connections – according to Klaus Müller, Head of Strategic Development and Transformation, Telekom Deutschland Business Clients (as of May 2018).
What is VoIP?
Voice over IP is often referred to as IP telephony or Internet telephony. It is a technological system that, in contrast to the conventional ISDN variant, uses IP connections to connect to broadband. This paves the way for voice communication via the Internet. "IP" stands for Internet Protocol – the network protocol that forms the basis for connections made via the Internet. Each Internet-enabled device has its own IP address. Data can be sent back and forth between end devices via this IP address.
Everything you need to know at a glance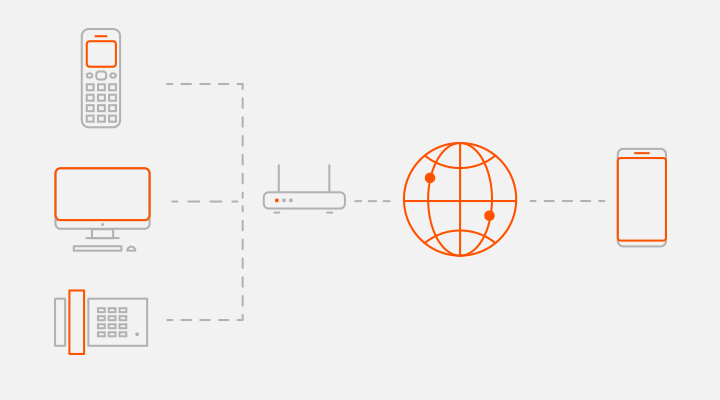 "Voice over IP" (VoIP) is a technology that allows you to make phone calls via the Internet
VoIP allows you to save money on telephone calls and to take advantage of many other functions, such as video conferencing or instant messaging.
You can use VoIP with your smartphone, PC, analogue device or IP phone.
How does VoIP work?
VoIP does not use the conventional phone network. Instead, telephones connect to broadband via a DSL router or VoIP-enabled cable modem. The process that is taking place in the background can be divided into three steps:

Voice is converted
Your VoIP application digitalises the audio signal.
Data is transmitted
The numerous data packets that make up a phone call are transmitted via the Internet.
Data is decrypted
Once the data arrives at the target destination, it is converted back into voice.
Using SIP to connect and disconnect
To establish a connection, you will need the Session Initiation Protocol (SIP). This is responsible for managing the communication connections between two or more participants. Each VoIP user has its own SIP address, which is structured in a similar way to an email address. This allows you to be identified online and to make a phone call from any SIP-enabled end device, regardless of where you are.
Voice transfer
The acoustic signals that are recorded by the microphone are firstly converted into electrical signals so that voice information can be transmitted in the form of digital data packets. These signals are then digitised and divided into small packages. The method of encoding is called Codec, and is crucial for transmitting the data packets. It determines the voice quality. The better the voice quality, the higher the required transmission rate.
Jitter and voice quality
The term "jitter" refers to variability in latency, and it is one of the factors that is crucial to good voice quality. Once the data packets have been sent from the sender to the receiver, they are decrypted again. The "jitter buffer" ensures that the phone call does not break up if there are delays to the data transmission process. The buffer temporarily stores the data packets that have been received and transmits them without any variability in latency, or with only minimal variability. A large jitter buffer compensates for more extreme variability in latency.
Conversion to IP telephony

The transition from conventional ISDN telephony to VoIP is simple and straightforward. In most cases, you don't even need a new device. It's as simple as this:
Internet connection
IP telephony requires an Internet connection with sufficient bandwidth. You can achieve excellent voice quality at approximately 100 Kbit/s. However, as your Internet connection is normally used for a variety of applications, we recommend that you use a higher bandwidth.
Compatible hardware
You need a suitable device in order to use VoIP. In most cases, however, it is not necessary to purchase new hardware. You can normally use your PC, laptop or smartphone to make phone calls via VoIP.
VoIP providers
Here is what you should take into account when choosing the right provider:
Data protection
Please ensure that your provider complies with the European Data Protection Directive and encrypts your data within the system.
Reliability
Your provider should offer a high level of availability and reliability. An availability of 99% should be in place for businesses in particular.
Range of functions
VoIP provides numerous options – for private clients and businesses. Find out which features are included and which you will need to pay extra for.
How do I use VoIP with my hardware?
VoIP generally works wherever there is a good Internet connection. You also need the right hardware. We will show you how to use IP telephony with your usual hardware:
What businesses need to know when converting hardware
When converting to VoIP, it is particularly important for businesses to ensure communication is permanently available. If you are already using the Internet Protocol for voice transmission, you will not usually need any new end devices. If your business is communicating via an ISDN system, you might also be able to keep this system.
Converting the ISDN system
If you do not want to invest money in new devices, you can easily convert your ISDN telephone system to IP telephony. To do this, you will need either a SIP telecom system connection or you can use the services of a cloud telephone system.
VoIP – the future of telephony
Advantages

Risks

Is my data safe?

Complex encryption protocols such as TLS (Transport Layer Security) or Secure Real-Time Transport Protocol (SRTP) secure SIP trunking, i.e. the IP connection that is responsible for connecting and disconnecting the phone call. Your data is almost 100% secure during internal network calls. Once a phone call leaves the private network, complete security cannot be guaranteed as your encryption only protects half the connection.
Risk of voice phishing
If data packets are transmitted via the network, attacks from other computer programs can never be completely ruled out. This means data may be captured and converted into audio files as part of an Internet scam (voice phishing). It is very difficult to completely encrypt VoIP as this would compromise voice quality. Nevertheless, you can take security precautions.
VoIP for your business

Seamless communication and smooth collaboration are important to your business. With VoIP, you can access the latest technology and benefit from constantly up-to-date features. This means you will save money and will be able to respond to developments in your day-to-day work at any time.
Glossary – an overview of the key terms
| TERMS | MEANING |
| --- | --- |
| VoIP | "Voice over IP" – making phone calls via the Internet |
| IP | "Internet Protocol" – the network protocol that forms the basis for the Internet. |
| Jitter | variability in latency in the data transmission process |
| SIP | the "Session Initiation Protocol" is responsible for managing communication connections between two or more participants. |
| SIP-Trunking | SIP trunking bundles multiple phone lines together. |
Summary
VoIP is in vogue and it is set to become the new standard of telephony. Voice communication via the Internet offers private clients and businesses numerous advantages. Making the change is quite simple: All you need is an Internet connection with sufficient bandwidth, appropriate hardware and a VoIP provider.