Gigaset life series: Comfortable and secure phones perfect for seniors
Phones for seniors: supporting your needs
The telephone plays a central role in everyday life. Wouldn't it be nice if your phone combines functionality and modern technology? Seniors are particular about having a phone that is easy to use thanks to a large display and buttons with a pleasant feel. Flexible volume settings, acoustic profiles and great sound quality help them to understand everything and with an intuitive menu guide, usage becomes natural. Many phones in the life series have additional supporting gestures, such as an optical call signal. This enables people with limited hearing, vision and mobility to make comfortable phone calls in everyday life.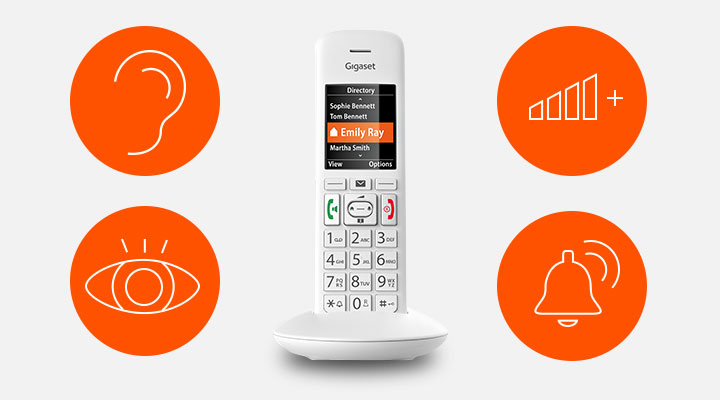 The Gigaset life series
As Europe's market leader in telephones, Gigaset has been developing DECT cordless phones for years, impressing with ergonomics, comfort and safety. With the life series devices, people of different ages enjoy all the benefits of this phone, for example, the programmable speed dial buttons allow you to contact your family with just the press of a button or get help with the SOS function in case of an emergency. Moreover, you are able to adjust the volume of ringtone and speaker according to your level of hearing – all models in this series are hearing aid compatible. An extra optical call signal ensures that you don't miss any more calls and through the large contrasting displays, so you'll immediately see when someone's calling you. To top things off, the simple menu guide allows you to operate this phone with ease and makes phone calls a pleasant experience for all ages.
A summary of advantages
Hearing - Easy to understand without restrictions – even when making phone calls with hearing aids
Seeing - Easy to read with high-contrast presentation of names and phone numbers
Feeling - Easy to use, thanks to large buttons and an intuitive user interface
Security - To ensure security a quick call can be made in case of an emergency – thanks to the emergency call button. You can use this device as a baby monitor to make sure your children stay safe
Understanding better
For many people, hearing becomes increasingly weaker in old age. Nevertheless, no one should have to sacrifice having a pleasant phone call, which is why many acoustic support features have been put in place, allowing you to understand everything.
Everything in sight
Long phone numbers or names are often difficult to read on conventional displays – even when you have healthy vision. Gigaset's life series phones provide optimal, clear usability with a readable display and a large key inscription.
Easy to use
New technology doesn't have to be complicated. Gigaset's life series phones are easier to operate and also impress with intuitive structures – making phone calls more comfortable.
A safe feeling
As you age, feeling safe and secure becomes increasingly important for you and your family members. Gigaset life series phones helps you to feel even safer thanks to speed dial buttons, SOS emergency call function and room monitoring.
Maximum comfort and state-of-the-art technology
If you want to use the age-appropriate functions of senior phones, you can still do so without overly-sophisticated technology. Gigaset life series phones both impresses and attracts their design.
Be inspired
Discover all phones of Gigaset life series