Import your contacts with the Gigaset ContactsPush app
Effortlessly transfer contacts from your smartphone to your landline telephone.
With Gigaset's ContactsPush app, which connects your Gigaset-telephone and smartphone via Wi-Fi, you are able to easily transfer contacts. Exemplar devices that work with this app are listed as follows: 'Gigaset's GO-Serie telephone' or 'Gigaset's desktop-device DX800A all in one' and 'Gigaset's DL500A'.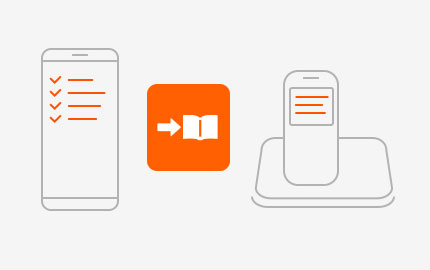 Transfer Android or iPhone contacts
Download the new ContactsPush App for free in the Google Play StoreTM or in the App Store© and link your smartphone with your home Wi-Fi.
From then on it's relatively simple: the app shows you which telephones are connected to the Wi-Fi1) as well as the handsets from your selected landline. You are now able to transfer specifically selected contacts or your phonebook from your smartphone to up to 6 devices.
New: to avoid duplicate contacts, you have the option to transfer one contact for each of the contact's number (i.e. office, private, mobile).
Download now:
Advantages of the Gigaset ContactsPush app:
Transfers contacts from your smartphone with ease
Developed for your Gigaset IP landline
Avoids duplicate contacts
Individually selects contacts and numbers
---
It's that easy: transfer your contacts in 5 steps
1. Search and link your landline telephone
Link your smartphone with your home Wi-Fi, which your Gigaset landline telephone should also be connected to. Open your ContactsPush App on your smartphone and select 'Search Telephone'. In the list, you should now see your telephone system.
2. Select your mobile device
Select the mobile device which you want to transfer your contacts to and confirm your choice.
3. Search, filter and select contacts
Mark the desired contacts from your address book, you can either transfer all of your contacts or specifically selected ones. Moreover, you are able to look through the list of contacts, by clicking on the filter button.
4. Select settings for the transfer
Before you transfer your contacts, select whether all numbers of a contact or just one number (i.e. private, office, mobile) from a contact should be transferred. Furthermore, you can decide whether you want to delete the contacts on your landline telephone, before the transfer, so that old contacts can easily be replaced.
5. Import contacts
Now click on "Send contacts" and your address book will be transferred.
---
Which landline phones support the new ContactsPush app?
All IP-based Gigaset systems (e.g. Gigaset C430A GO, C430IP) and desktop systems with Internet access (e.g. DX800A all-in-one, DL500A) are compatible with the ContactsPush app.
These phone systems support the Gigaset ContactsPush app:
A510 IP, A540 IP, C430 IP, C530 IP, C610 IP

C430A IP, C530A IP, C610A IP, C430A GO, C570A GO, CL750A GO, E630A GO, S850A GO, SL400A GO, SL450A GO

A510H, A540H, C430H/HX, C530H/HX, C570HX, C610H, C620H, CL660HX, CL750H/HX, E370HX, E630H/HX, S850H/HX, SL400H/HX, SL450H/HX
---
Which smartphones support the new ContactsPush-App?
The new ContactsPush App is available on Apple iPhone (from 5s onwards), almost all Samsung Galaxy smartphones (from Android version 6 onwards) and, of course, all Gigaset smartphones with the name GS***. 
The full list is shown as follows:
GS100, GS160, GS170, GS180, GS185, GS270, GS270 plus, GS370, GS370 plus

Galaxy Smartphones Android 6.0 onwards

Many more Android smartphones are compatible with the new ContactsPush app. However, as these cannot be thoroughly tested, Gigaset cannot guarantee the full functionality of the app.

iPhone 5s, iPhone 6, iPhone 6s, iPhone SE, iPhone 7, iPhone 8, iPhone X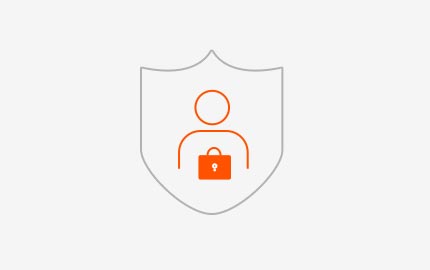 We protect your privacy
Protecting your data and privacy is very important to us. Saved contacts in your Gigaset mobile for example, will not be forwarded or shared. To ensure the best protection of your privacy, we comply with all legal provisions of the data protection act.
Here you will find the privacy policy of the Gigaset ContactsPush App.
1) You will need internet access for the gigaset.net server (www.gigaset-config.com). Should you temporarily have no internet access, press the paging-key on the base station of your IP telephone to display the IP-address on your DECT mobile device. You can then enter this manually in the app.