Gigaset phones: Quality to suit any requirement
Whether high-quality design for your living room or a robust design for the workshop
Spending hours with your best friend on the phone, telling your grandparents about your holiday or holding a conference call with work colleagues: Making phone calls over the fixed line, despite the proliferation of mobile phones is still very popular - due to the consistently stable connection without dead spots. 
Gigaset has been a communication expert in telephony for many years and its wide range of phones meets a wide variety of needs. From simple phones with the essential features to premium products with an extensive range of equipment, Gigaset offers the right product for every requirement - for families, senior citizens or companies. The versatile features include an integrated baby monitor, especially large keys or HD sound quality. The new Gigaset HX universal handsets are geared towards IP telephony (VoIP) and give users a high level of convenience, as they are compatible with any Internet router. Discover powerful technology, excellent ergonomics, well-thought-out designs and "Made in Germany" quality.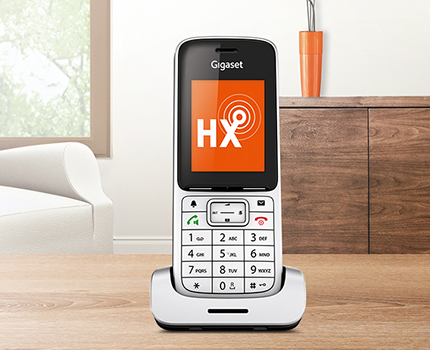 HX phones
Calling comfort with any router, with the Gigaset HX universal handsets
When it comes to IP telephony, the Gigaset HX universal handset is your perfect companion. The new models are compatible with any Internet router that has a base station using the DECT data transfer standard. These models give you easy access to the new type of telephony - in HD sound quality.
life series
Comfortable and secure phones perfect for seniors
The phones of the Gigaset life series impresses with its functional technology, high-quality design and easy to use – perfect companions even in old age. They provide equipment that ensures excellent audibility - even with a hearing aid. Names and phone numbers are clearly legible on large, high-contrast displays. Various safety functions ensure a fast connection in case of emergency.