DECT – everything you need to know at a glance
What is DECT?
DECT stands for Digital Enhanced Cordless Telecommunications. It is a wireless standard that is very often used for landline phones. Wireless communication has been given a big boost thanks to the introduction of the wireless standard.
Put simply:
DECT is to landline telephony what WiFi is to the Internet.
Advantages of DECT
Long range (up to 50 m indoors, up to 300 m outdoors)
High level of security against interception
Very energy-efficient
Separate frequency range that is not dependent on WiFi
Better quality of sound than with previous standards
Versatile application
Possible to use several handsets at the same time
Free internal calls
Handsets can be used at several base stations
Multi-provider handsets can be used at the base stations
Automatic base station switch (handover)
How does DECT work?

Now you know what DECT is and what benefits it brings, let's now turn to how this technology works:
A DECT system always contains two components that constantly communicate with each other. The two components are a base station, also called the fixed part, and at least one handset, or portable part.
The base station forms the bridge between the telephone and Internet connection and the handsets. This can be in the form of a simple DECT base station with or without an answering machine or a DSL router with DECT function.
It is also possible to connect several base stations to form a network. This is often used for telephone coverage in larger areas. A smooth transition is made possible here by single and multi-cell systems.
The handset is the counterpart to the base station. The handset is usually cordless and connects to the base station. However, this mobile part may also be in the form of a headset, mobile phone or smart home sensor.

How a DECT system works
The base station continuously sends a "beacon signal". This can be received by a handset in the vicinity. The signal provides the handset with the necessary information to allow it to connect and send data via this base station.
If the base station and handset are synchronised, you can make a phone call with this cordless solution. During a phone call, the beacon channel with the best connection will be blocked for other handsets.
When data is transmitted from the handset to the base station, there will be an average delay of 10 ms, which, in practice, is significantly better than when transmitting via WiFi or via Bluetooth.
When DECT telephony first came into being, it was only possible to communicate between devices (phone and base station) from one manufacturer. This all changed in 1994 with the introduction of the Generic Access Profile (GAP).
What is GAP (Generic Access Profile) or a GAP telephone?

Each DECT device that is currently available must, at the same time, be GAP-ready. This is a standard that enables DECT devices from different manufacturers to communicate with each other.
What does this mean in practice?
GAP enables, for example, a Gigaset handset to work with a DECT FRITZ!Box base station without any issues. That means devices can be tailored precisely to the needs of the user.
It must be noted, however, that the GAP standard only covers basic telephone functions. There may therefore be times when a handset from a different manufacturer is not able to carry out all the functions described.

Nobody wants other people to listen in on their private conversations. In 2009, a group of engineers from the Technical University of Darmstadt published information about how DECT calls can be intercepted.
This resulted in manufacturers issuing very serious security updates. The security measures involved each handset logging on to the base station using a secret key, but these were no longer sufficient.
The standard encryption for DECT devices is 64-bit. Some manufacturers also use higher rates of encryption.
It is important to know that when using a DECT repeater, encryption will no longer be in place as it is strictly speaking a connection from handset to handset.
Various groups are continuing to look at improving security around DECT wireless signals and correcting potential security vulnerabilities.
Radiation from DECT
Like WiFi routers, microwaves, baby monitors or mobile phones, DECT as a wireless standard also gives off a certain amount of radiation.
You need to know in advance that with a DECT system, the handset will only send a signal during an active call. Meanwhile, the base station may also send a signal when it is in sleep mode in order to register a handset.
However, a wireless signal from a DECT system cannot be compared to that of mobile technologies.
| System | GSM900 | GSM1800 | DECT |
| --- | --- | --- | --- |
| Frequency | 900 MHz | 1800 MHz | 1900 MHz |
| Time slots | 8 | 8 | 24 |
| Peak output | 2000 mW | 1000 mW | 250 mW |
| Average output | 250 mW | 125 mW | 10 mW |
| Legal limit | 4,65 W/m² | 9,0 W/m² | 9,5 W/m² |
Quelle: Bundesnetzagentur

The specific absorption rate (SAR) indicates how strong the radiation power of a device is. In this respect, the maximum load of 2 W/kg must not be exceeded. On average, DECT devices with 0.05-0.1 W/kg remain well below this value.
However, there are ways of reducing this value even further.
This is probably the most well-known mode for low-radiation phones:



ECO DECT is an environmentally-friendly technology that reduces power consumption and provides a variable reduction in transmission power. With this mode, power consumption is reduced by 60% and radiation by up to 80% compared to phones without ECO DECT.
The exposure to radiation with ECO DECT falls further below the 0.1 W/kg of standard DECT devices and is therefore almost zero.
A minor drawback with ECO DECT is that the full benefits only come to the fore when a handset, which needs to be positioned on the base station, is connected.
This is why ECO Plus has been introduced.
Transmission power is reduced by 100% in standby mode, even if several handsets are registered.
Additional information about ECO DECT and ECO Plus can be found on our info page.
Range
We often make phone calls on the go. This is where a DECT phone is obviously limited. And those limits are 50 metres indoors and 300 metres outdoors.
The range depends on whether there are materials such as concrete, steel or trees between the base station and the handset.
If the standard DECT range is not sufficient, a DECT repeater can be used to significantly increase the range.
A powerful DECT repeater such as the Gigaset Repeater HX registers with the base station like a handset, thus doubling the range without any loss of voice quality or interruption when connecting to the repeater.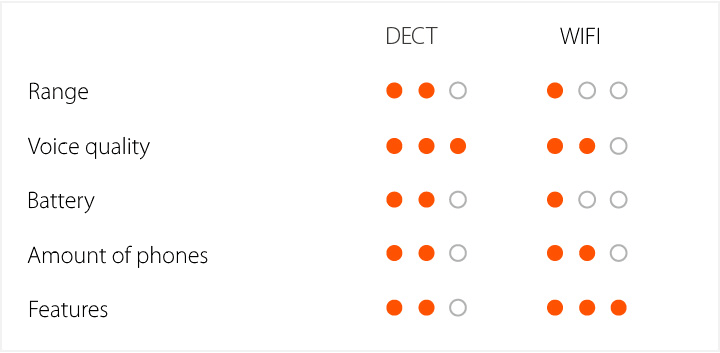 Source: Voipone
It is a tempting thought: All you need is WiFi and you can have access to the Internet, telephony and any data transmission. DECT has faced strong competition with the advent of VoIP. The principle of wireless transmission is the same in this regard. But when it comes to the detail, there are significant differences with regard to how both technologies are used.
And here is why:
WiFi is designed to communicate data. As part of this process, small data packets are transmitted that can often lead to interruptions.
But this plays a decisive role when it comes to voice communication in particular. When we are on the phone, we want to understand what the other person is saying and would rather not accept substandard voice quality.
DECT, on the other hand, was designed for voice communication from the outset; it makes it a priority. All resources can be used in the isolated frequencies for optimum voice quality.
The CAT-iq profile has been developed for additional data communication in order to take advantage of WiFi within the DECT system.
A further advantage of DECT over WiFi is the range. "Voice over WiFi" is usually very restrictive and switching to another access point without there being any interruptions when making a phone call only works with certain access points.
DECT profiles
New profiles with considerably lower power consumption, faster data transfer and improved voice quality are the factors that drive the wireless standard forward.
However, DECT phones are also constantly developing and combine modern phone technology with the benefits of DECT.
We would like to introduce two of these DECT profiles here:
CAT- iq

DECT is essentially designed for voice transmission. As VoIP (Internet telephony) and the associated data transmission became so successful, it was time for DECT to be able to use these features too.
"Cordless Advanced Technology – Internet and Quality" or CAT-iq for short has been introduced to support the use of multimedia and broadband applications such as podcasts alongside voice transmission.
This new profile can be used to allow HD quality to be used when making phone calls and for Internet services such as audio streaming or smart home functions within a DECT system. This is made possible by grouping several voice channels.
The next steps in this profile are as follows:
CAT- iq 2.0/2.1
Even when it comes to CAT-iq, the world does not stand still. With CAT-iq 2.0, compatibility between the devices provided by different manufacturers has been improved. It ensures that a base station from manufacturer A can be used in conjunction with a handset from manufacturer B.
This was already a feature of the GAP standard, but it only applied to basic functions such as dialling and calling. Additional functions, like being able to consult the caller list, could not be used with the standard.
CAT-iq 2.1 also introduced additional security updates and network functions.
DECT ULE

As the name suggests, DECT ULE is about using as little energy as possible.
This DECT profile is particularly used in smart home applications. In this case, it has an advantage over other smart home communication protocols such as ZigBee or Z-Wave in that it has been in place for more than 25 years and so the teething problems have already been eliminated. This means that it is a reliable and proven wireless standard.
The separate reserved frequency range for DECT ULE makes communication between the smart home devices virtually free from interference.
A journey through time with Gigaset
The wireless standard was introduced by the European Telecommunications Standards Institute in 1993, and has since regulated how signals are transmitted wirelessly. The frequencies in which DECT works have been the same ever since and are between 1880 and 1900 MHz.
DECT phones were introduced back in 1992. The Gigaset 951 and 952 were best-sellers that performed particularly well. Below you will find an overview of the last 25 years:
The technology has progressed since then.
Nowadays, DECT is lower in radiation, more power-efficient than ever before, and offers a wide range of uses, such as in smart homes.
This is also why the "T" in DECT has changed from "Telephony" to "Telecommunications".
In addition, the "E" has changed from meaning "European" to "Enhanced" as the wireless standard has now become a global phenomenon.
But where do we go from here?
Future prospects
Is DECT still relevant? Does it have a promising future?
This technology is already more than 25 years old and is pretty much a feature of every household. However, the future of DECT is often under question. Of course, time never stands still and neither does the evolution of the DECT standard.
Recently, the Federal Network Agency extended the general allocation of the DECT frequencies to 31 December 2025. This means that DECT devices may be used until the end of 2025, and it is very likely that this extension will not be the last.